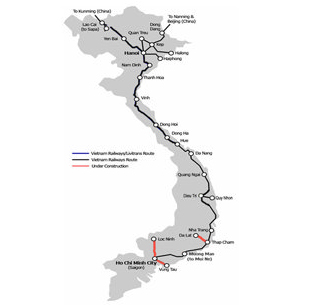 Vietnam Railways carries out business in competitive market, has reasonable fare and pay fees for the State for the infrastructure use.
In 15/TB communique issued on 20 May 1996, the Prime Minister pointed out guideline and development strategy for Vietnam Railways Corporation to the years 2000, 2010 and 2020. Regarding investment capital for infrastructure development, the Government confirmed that it would be drawn from the Stare Budget and paid out in terms of infrastructure and buy equipment for Diesel locomotive.
It's not the Orient Express, but Vietnam's Reunification Express is a great, fun way to travel. We travel 'Soft Sleeper' on all rail journeys. This is the most comfortable standard available through is cannot be compared with European standards. RE train runs all the way from Hanoi to Sai Gon (Ho Chi Minh city), stopping in Hue, Da Nang, Nha Trang and Phan Thiet (Mui Ne). On sleeper trains, generally speaking each carriage contains a number of cabins, which have four berths. Luggage can be kept in your compartment under the bottom bunks. A wash basin and communal western and squats toilets are located at the end of each carriage. Pillows and blankets are provided, meals are sometimes served on the train, but we recommend you bring your own food with you.
Train Stations
Hanoi Station

(Hanoi - Gate A)

Add: 118 Le Duan Str, Hoan Kiem Dist, Hanoi, Vietnam
Tel: 84.4.39425972

Tran Quy Cap Station

(Hanoi - Gate B)

Add: 1 Tran Quy Cap, Dong Da Dist, Hanoi, Vietnam

Tel: 84.4.3877 0298

Ninh Binh Station

Add: 1 Hoang Hoa Tham, Ninh Binh City, Ninh Binh, Vietnam

Tel: 84.30.3673619 

Thanh Hoa Station

Add: 2 Duong Dinh Nghe, Thanh Hoa City, Thanh Hoa, Vietnam

Tel: 84.37.3851527

Vinh Station

Add: 1 Le Ninh Str, Vinh City, Vinh, Vietnam

Tel: 84.38.3853426 

Hue Station

Add: 2 Bui Thi Xuan, Hue City, Hue, Vietnam

Tel: 84.54.3822175 

Da Nang Station

Add: 202 Hai Phong Str, Da Nang City, Vietnam

Tel: 84.5113.823810 

Dieu Tri Station

Add: Van Hoi 2, Dieu Tri Town, Tuy Phuoc, Binh Dinh,Vietnam

Tel: 84.56.3833255/3833249 

Binh Thuan Station

(Muong Man Station)

Add: Ham Thuan Nam, Binh Thuan, Vietnam

Tel: 84.62.3868789

Dong Ha Station

Add: 2 Le Thanh Ton Str, Dong Ha City, Quang Tri, Vietnam

Tel: 84.52.3850631 

Dong Hoi Station

Add: Square #4, Nam Ly Ward, Dong Hoi Town, Quang Binh, Vietnam

Tel: 84.52.3820558 

Nha Trang Station

Add: 17 Thai Nguyen Str, Phuoc Tan Ward, Nha Trang City, Khanh Hoa,Vietnam

Tel: 84.58.3822113 

Phu Ly Station

Add: Route 1A, Phu Ly City, Ha Nam, Vietnam

Tel: 84.3513.852168

Lao Cai Station

Add: Khanh Yen Str, Pho Moi Ward, Lao Cai City, Lao Cai, Vietnam

Tel: 84.20.3830093 

Saigon Station

Add: 1 Nguyen Thong Str, 9 Ward, 3 Dist, Ho Chi Minh City, Vietnam

Tel: 84.8.38436528/38466091